Toronto Village
n°1 small tower with roof; n°1 small tower; n°1 movable bridge; n°1 climbing ladder; n°1 slide; n°1 climbing set; n°1 swing.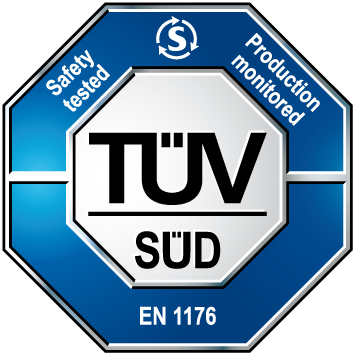 Description
Map
Technical features
Request Info
Swing and slide set Toronto Village.

Certificate in accordance with European Standards EN 1176 by ​​the German TÜV - SÜD.

Made of pine autoclave treated with non-toxic salts.

Parts list: N°1 turret with wooden posts section. 7x7 cm equipped with gabled roofs and protective panels made ​​both in bi HPL pantograph and without corners. Dim. cm 80x80x260 h N°1 turret pool with wooden posts section. 7x7 cm equipped with protective panels in bi HPL bright colors. Dim. cm 80x80x175 h N°1 climbing ladder with two handrails fitted with wooden side panels laminated on both HPL bright colors. N°1 slide fiberglass h. 100 cm. N°1 mobile bridge with pine planks supported by 2 springs of hot galvanized steel, equipped with handrails and ringherine protection. N°1 place to swing a seat with rubber bumper with internal aluminum profile and chain-mesh welded and hot-galvanized. N°1 back in Sweden consists of rungs iroko Ø 45 mm. N°1 nylon rope rigging with internal steel cable coated in nylon locking nut and colorful. Assembled by 8.8 galvanized steel bolts and nuts. Elements covernut under colored nylon attacks galvanized metal, for anchoring to the ground.