Maria Small Tower (Climbing Wall)
N°1 turret; N°1 climbing wall; N°1 slide: N°1 polyethylene small panel.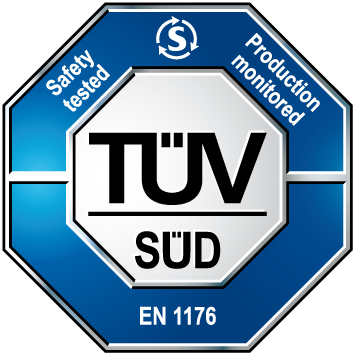 Inclusive Product
Description
Map
Technical features
Request Info
Certified according to European Standard EN 1176 by the German TÜV - SÜD.
Structure made of painted electro galvanized steel and colored polyethylene high-density pantographed panels (PEHD) without sharp edges.
Components: N°1 turret with steel poles with circular section Ø 89 mm, platform in steel chequer plate 30/10 with non-slip knurled surface, decorative roof made with polyethylene panels assembled to poles by tubular steel fixings, protective polyethylene panels. Dim. cm 100x100x355h; N°1 climbing wall in polyethylene with handholds in composite coloured resin and quartz powder; N°1 slide H cm 150 in rotomolded colored high-density polyethylene, connected to the structure through polyethylene panels; N°1 polyethylene small panel that reproduce the hour and minute hands. Assembly system with 8.8 galvanized steel bolts and self-locking nuts. Colored nylon cap nuts as required by law. Polyethylene pole caps. Baked finishing at 180°C. Hot-dip galvanised metal brackets for ground anchoring system in a concrete plinth.