Granada Village
n°1 small tower whit roof; n°1 climbing ladder; n°1 climbing set; n°1 slide; n°1 swing.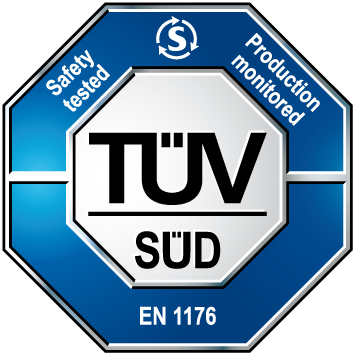 Description
Map
Technical features
Slides Options
Request Info
Kids Playground equipment Granada Village.
Certified according to the European Standards EN 1176 by the German TÜV - SÜD. Structure made of wood laminated pine timber pressure treated with non-toxic salts. Components: N°1 tower with wooden poles section 9x9 cm equipped with a gable roof and protective panels in polyethylene PEHD 1 cm thick pantographed without sharp edges. Dim cm 100x100x315 h. N°1 access stair with 2 protective panels in polyethylene PEHD, 1,5 cm thick, pantographed without sharp edges, which act as handrails. N°1 slide in rotomolded coloured high-density polyethylene h 134 cm. Alternatively, it can be installed a slide with lateral support in wood and steel ramp or a slide in fiberglass or a polyethylene tunnel slide. N° 1 swing with flat or cradle seat, made in impact-resistant rubber with aluminium core and available with hot dipped galvanized small mesh chains. N° 1 Swedish ladder with parallel bars made of Iroko Ø 45 mm. ; N ° 1 climbing nylon rope net with steel wire armoured core and coloured nylon junctions. All wood components are treated with non-toxic high-colouerd penetrating stain, water dilutable. Assembly system with 8.8 galvanized steel bolts and self-locking nuts. Colored nylon cap nuts as required by law. Hot-dip galvanised metal brackets for ground anchoring system.