Multiplay Structure Ecuador
n°1 climbing net; n°2 perchs; n°1 small rope ladder; n°1 rope n°1 set climbing bars; n°1 horizontal climbing.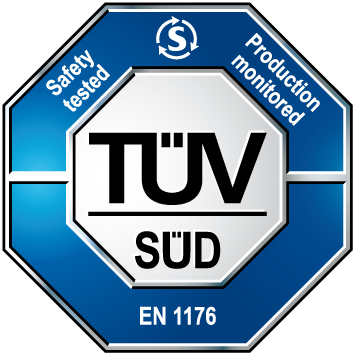 Description
Map
Technical features
Request Info
Climbing structure Ecuador. Certificate in accordance with European Standards EN 1176 by ​​the German TÜV - SÜD.

Made of wood laminated pine timber autoclave with non-toxic salts. The whole structure consists of square section piles 9x9 cm and corner joints in galvanized steel.

Parts list:

N°1 shroud made ​​of square section frame poles 9x9 cm, and network cables with nylon internal core coated steel cable. The network is assembled and attached to the frame by special colored nylon locking nut.

N°1 nylon rope ladder vertical colored inner core wire coated steel and polyethylene pegs.

N°2 perches made ​​of tubular galvanized steel oven 180°C.

N°1 for rope climbing rope with colored nylon internal core coated steel cable.

N°1 back in Sweden with pegs iroko Ø 45 mm.

N°1 upper horizontal climbing ladders with iroko Ø 45 mm.

Assembled by 8.8 galvanized steel bolts and nuts. Elements covernut under colored nylon. Attacks galvanized metal for anchoring to the ground.