Play Structure Fayette
n°1 tower; n°1 bridge climbing; n°2 poles; n°1 wall bars; n°1 wall with holds.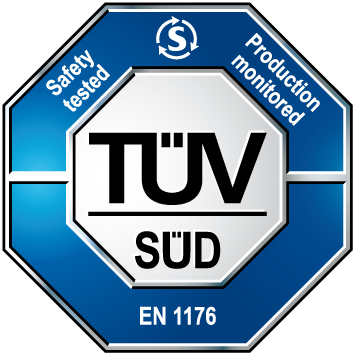 Description
Map
Technical features
Request Info
Outdoor Climbing structure Fayette.
Certificate in accordance with European Standards EN 1176 by ​​the German TÜV-SÜD.
Structure made ​​of wood laminated pine timber autoclave with non-toxic salts.
Parts list:
N°1 bridge with nylon climbing rope made ​​with internal steel cable coated in nylon locking nut and colorful.
N°1 turret pool with wooden posts section 9x9 cm equipped with protective and decorative panels of mahogany plywood okoumé grooved phenolic-glued and no edges. Dim. cm 101x78x260 h.
N°2 perches made ​​of tubular galvanized steel at 180°C.
N°1 and climbing wall shaped pantograph, made with birch plywood panels finished with phenolic adhesive film on both sides and colored resin marble colored handles.
N°1 back in Sweden consists of rungs iroko Ø 45 mm.
All the wooden parts are treated with high-colored stain penetration, non-toxic, wax-based water-soluble.
Assembled by 8.8 galvanized steel bolts and nuts. Elements covernut under colored nylon. Attacks in galvanized metal, for anchoring to the ground.