Climbing Structure Everest
n°2 climbing panels with holdings; n°1 climbing wall with a net of rope; n°1 perch; n°1 small rope ladder; n°1 rope; n°1 set of climbing bars; n°1 set of climbing curve.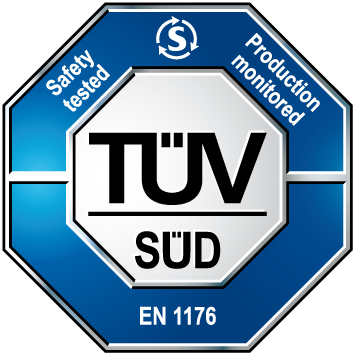 Description
Map
Technical features
Request Info
Climbing structure Everest.

Certificate in accordance with European Standards EN 1176 by ​​the German TÜV - SÜD.

Made with wooden poles of pine autoclave treated with non-toxic salts of section 7x7 cm.

Parts list: N°2 panels, phenolic glued birch plywood finished with colored films on both sides and holds colored marble resin. N°1 nylon rope rigging with internal steel cable coated in nylon locking nut and colorful. N°1 perch made ​​of tubular galvanized steel at 180°C. N°1 lineup vertical colored nylon rope with a core inner steel cable coated with polyethylene pegs. N°1 for rope climbing rope with colored nylon internal core coated steel cable. N°1 back in Sweden with pegs iroko Ø 45 mm. N°1 climbing higher curve in galvanized steel at 180 °C. Assembled by 8.8 galvanized steel bolts and nuts. Elements covernut under colored nylon.