Acapulco Village
n°2 small towers with roof; n°1 swinging bridge; n°1 climbing set; n°1 swing; n°1 climbing ladder; n°1 ramp; n°1 slide.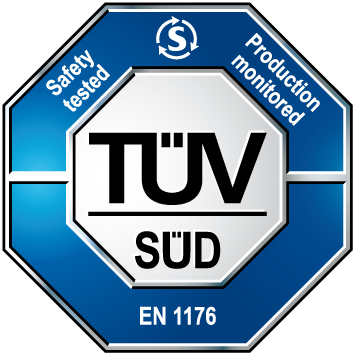 MEPA
MEPA Product 0405AP-SS
Description
Map
Technical features
Slides Options
Request Info
Playground set Acapulco Village. Certificate in accordance with European Standards EN 1176 by ​​the German TÜV - SÜD.

Made of wood laminated pine timber autoclave with non-toxic salts.

Parts list: N°2 towers with wooden posts section. cm. 9x9 equipped with a four-pitch roof connected by wood paneling n°4 Profiles colored wood paneling and protective panels assembled with colored contours. Dim. 120x120x395 cm h and dim. cm 120x120x335 h. N°1 swing bridge with wooden beams attached to the handrail by chain-mesh and galvanized welded to the underlying platform and fire safety in wood. N°1 ladder with rungs of iroko Ø 45 mm. N°1 ramp slope. N°1 slide h. track 150 with stainless steel and bent plywood mahogany sides okoumé grooved phenolic-glued with rounded corners. Treatment with potting colored non-toxic paint and finished with wax-based water-soluble. As an alternative to steel slide can be mounted in a tunnel slide open or open in fiberglass or polyethylene. N°1 Swedish ladder with parallel bars made of Iroko Ø 45 mm. N°1 nylon rope rigging with internal steel cable coated in nylon locking nut and colorful. N°1 climbing rope, nylon rope with colored inner core coated steel cable. N°1 place to swing a seat with rubber bumper with internal aluminum profile and chain-mesh welded and hot-galvanized. Assembled by 8.8 galvanized steel bolts and nuts. Elements covernut under colored nylon. Attacks galvanized metal for anchoring to the ground.